Soaring paintings
Painting artistic air-sport scenes is left to conscious artists.
For casual painters the scene must be more important than the painting. And that's what I did. I painted scenes that we did not have on film.

In fact, the following paintings have to do with a photo exhibition. In 1982 we organized a photographic contest, and an exhibition of air-sport photos, in the exhibition hall of the Municipality of Athens. Paintings were also exhibited.
Most paintings have been painted for this occasion.
---
Around 1977 Dinos Augerinos made attempts for his 300 km flight. All attempts were not successful. Here the DG100 is seen in the fields of Beotia. The sky begins to be covered by Sirrus clouds, the well known thermal killers.
---
The ASK13 ridge-soaring in Parnis mountain. In the background is Athens and the Saronic gulf.
---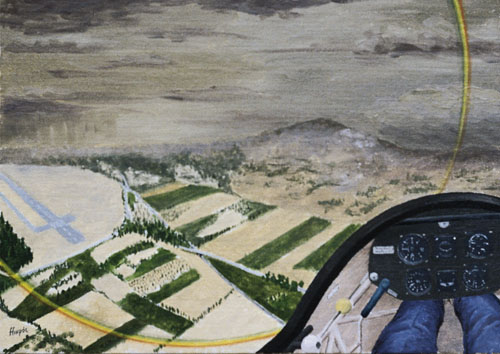 A full circular rainbow is impressive, but cannot be easily photographed. Here is the rainbow we met, flying in the rain with the setting sun on our back. You can see the runway of Tatoi airport and Penteli mountain in front of the ASK13. The painting cannot give us the fantastic movement of the rainbow on the ground.
---
The small airport of Marathon was by the sea. Every landing was a flight over the sea, with low pass over the beach, and cross-wind touch-down. Penteli mountain can be seen behind the Puchatz.
---
Flying the Cavka in Edessa, over the timberline was fantastic. You may excuse the tree on the right. It does not grow in Edessa (it is a tree of the southern mountains of Greece). Note also the SX number on the wing. The S was painted the wrong way (as a 5) also on the real glider.
---
The Mosquito returning to the ground by sunset, after climbing on the side of a Cb cloud over Athens.
---
Flying home from Mt.Penteli after sunset. We can see the ground below, but not the airport in front. Mt.Parnis can be seen above the haze. P.Savoulidis is flying the ASK13. The Bocian is below.
---
A "Sea breeze front" above Tatoi airport. View from the tail of the ASK13. Climbing in the narrow band of lift are also the Bocian and the Weihe.
---